Jurassic World: Dominion Dominates Fandom Wikis - The Loop
Play Sound
Abandoned Mine
Information
Mine entrance
There is an abandoned mine located in the Northern Badlands on Westerley. The mine is at least a century old, and the side walls and hanging wall are unstable. Throughout the mine are holes that open up in the footwall that drop into pits.[1]
Entrance to the mine is through a shaft that leads down into tunnels dug through out the slat rock.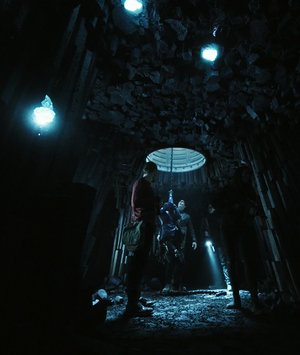 Throughout the mine are large Photonic Crystals, enough to fuel half the Quad and worth millions, maybe billions of Joy. The mine was closed down and abandoned, but not because it was played out. It was shutdown for some other reason, and there are no Company records of the mine.
Inside the mine grows a large amount of moss and it is infested with mossipedes.
The mine has an underground temple featuring the Mother Tree and a Scarback Symbol, far below ground. Alvis Akari found the mummified remains of a monk near the temple in the mine. He believed that the monk was one that written about in Scarback scriptures, one of twelve that went to Arkyn to fight the devil.
Trivia
The set for the mine was inspired by actual basalt caves.[2]
References