Bea, is a recurring character appearing in Season 4 of Killjoys.
She is portrayed by actress Mercedes Morris.
Biography
Bea is an inhabitant of the Debtor's Colony in the Alcador Cluster. She is paying off her debtor by acting as an organ harvesting host.[1]
Working with Delle Seyah Kendry, Bea is able to implicate the warden of the colony in illegal activities and gets her debt expunged.[2]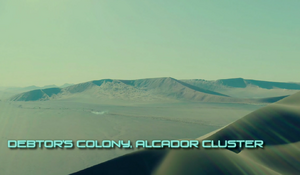 Appearances
References