Kal Csoort is a character appearing in Season 1 of Killjoys. He is portrayed by actor Dru Viergever.
Biography
Kal Csoort is the leader of a group of criminals that robbed a Westerley immigration center in Old Town, killing two guards in the process. The gang stole 1000 Seventh Generation Accord claim identification packets with the intent of selling them so that people who had not met the Accord requirements could claim land on Leith.[1]
He and the others of his gang were confronted by Captain Hector Feraanz in the Royale during a Black Rain storm. Kal was shot by Captain Feraanz and required emergency medical treatment by Pawter Simms. Pawter eventually operated on Kal and stabilized his condition, however the others of his gang were killed by John Jaqobis.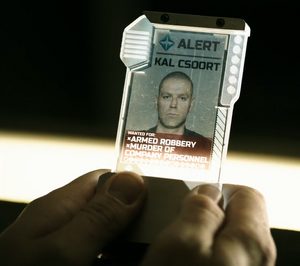 Appearances
References