"Yes, I am a pretty pretty princess" - Pawter Simms
Pawter Simms was a recurring character appearing in Season 1, Season 2 and Season 4 of Killjoys. She is portrayed by actress Sarah Power.
Biography
A RAC certified doctor[1], Illenore Pawter Simms grew up on Qresh and is a member of Land Simms, one of the Nine families of the Quad. Her mother is Adaline Seyah Simms, the matriarch of Land Simms.[2]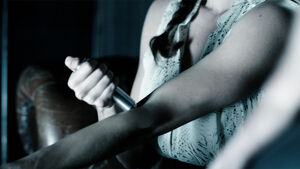 She and her sister Louella grew up on Qresh with others from the families of the Nine, including Delle Seyah Kendry. When Pawter was 15, Delle Kendry put dye in the Simms' swimming pool, turning Pawter's skin green during council elections. As payback, Pawter mixed Dilex-12 into Delle's shampoo. It took Delle two years to grow back her hair.[3]
While a student in medical school she became addicted to Jakk. After becoming a doctor she operated on a patient while high on Jakk and the patient died. She would have been arrested however her parents, Seyah Simms and Weymer Simms[4] intervened. She was forced to leave Qresh and move to Westerley to avoid going to prison. She manages her addiction by taking small doses of pure Jakk.[5]
Pawter practiced medicine in a clinic above The Royale, a bar in Old Town on Westerley.[6] She would take whatever measures necessary to treat her patients, including obtaining medical supplies through the black market. Pawter had a brief romantic fling with D'avin Jaqobis while evaluating him for suitability as a RAC Agent.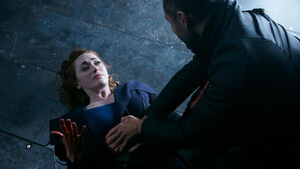 She was so dedicated to the people of Westerly that she stayed behind with Alvis Akari in the bunkers below Old Town when the city was bombed rather than escape with Dutch and Johnny on Lucy, because she knew the survivors would need a doctor.[7][8] She continued to fight for the rights of Old Town residents after the bombing and subsequent installation of a Containment Fence around the town.[9] Johnny helped her investigate the Company plan for Old Town and the technology installed at the Spring Hill Compound.[10][11] She and Johnny fell in love and got married while covertly fighting the Company. Pawter was stabbed to death by Delle Seyah Kendry while negotiating an accord for the freedom of Westerley from the Company.[12]
Lady of the Land
Pawter became the matriarch of Land Simms and a council member of the Nine after the death of her mother.[13]
Appearances
References
Community content is available under
CC-BY-SA
unless otherwise noted.