Jurassic World: Dominion Dominates Fandom Wikis - The Loop
Play Sound
The Royale
Information
Big Joe and Dutch in The Royale
"The Royale is the heart of this town. There's a beat to it, and the people of Old Town, they're its blood. They stumble in here weak and flow out stronger, and drunker, but more hopeful, more alive." – Pree[1]
Background
The Royale is a bar in Old Town on Westerley, owned and operated by Pree. The establishment provides various types of entertainment, from drinks and games in the bar to sexers in rooms upstairs.[2] The Killjoys trio provides security for the bar in exchange for free drinks.[3]
Dr. Pawter Simms operates a medical clinic in rooms above the bar as well.[4]
Behind the bar is a trap door that leads down to the tunnels below Old Town.[5]
Bar Room Entertainment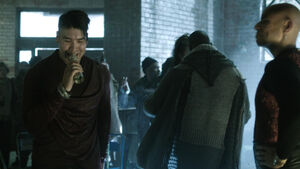 Pree brings in a number of local musicians to provide entertainment to his patrons.
After the Bombing of Old Town
The windows were shattered during the bombing of Old Town,[6] and there was heavy damage to the upper level, however the ground floor was largely intact.[7]
It was briefly taken over by Gared, however Dutch challenged him to a fight for ownership of the bar on Pree's behalf.[7]
After Pree regained ownership of the bar he brought on Sabine as a bartender. She had previously worked in the mine's Canteen.[8]
References